When Fifa 12 was released, it was hailed as THE game to beat. And the statements weren't just dead rubber. F12 went on to sell the highest no. of copies sold by EA on all the major consoles.
Has EA done enough to upsell F12 this season? Read on.
First look
On the cover, Wayne Rooney has been replaced by Lionel Messi (who also features in EA's Fifa Street) bringing Ronaldo's (brand ambassador of PES) and Messi's epic on - field battle to off the pitch too.
The game box is spartan leave for the cd and a few sheets of glossy paper.
F13 boots much faster than f12 and its latest intro is far more pleasing to the eye.
Also, the game loads straight to the home screen rather than the arena which will surely divide opinions.
Home Screen
The new homescreen, in my opinion is very unconvincing. Especially after last season's high. The..er..ball? behind the player looks poor and the skills lack totality.
Whats new?
Every new version of a franchise adds in it some new stuff to catch the eye of the consumer. Let us look at what FIFA 13 has added into its overwhelming kitty .
Major
Player Impact Engine II
F13 brings along with itself the second generation P.I.E. (lulz) . Now players not only lose their footing, they lose their footing in style. =_=
Okay, seriously, PIE does bring physics to off the ball battles and the strength of player now does matter. For example, Toure could simply shove Neymar away while battling for a loose ball.
Graphics
If there is one area where Fifa has always been on the backfoot,it HAS to be the graphics. The players have always looked like rag dolls save for a few who alteast resembled their real world counterparts. And luck has it ,this is one place where PES excels. So with PES really breathing down its neck this season, the designers at Fifa had a tough job in their hands.
When I played the demo first I was pleasently surprised to see EVERY first string City player look real. And then I saw the Arsenal players (_ _*)
When I tried the graphics on the released game, I had mixed emotions. Happy because as a Fifa fanboy I could see the leap taken.
And sad because EA still fell in the puddle. I really dont understand why every Newcastle player looks amazingly real while every Arsenal player looks like a cartoon from the 90s save for Arteta and Vermaelen.
And with the fanbase that Man United has all around the world, EA SHOULD have had them in the priority list. Valencia, Jones, Rafael, Kagawa, Cleverley, Evans, Fletcher do not even look SIMILAR. And RVP's playing style has not been copied.
Sad. This is one point where I feel PES wins yet again because the graphics in its demo were inch perfect and their Player ID is amazing.
But I will mention, players like Rooney,

Gutiérrez, Ronaldo etc. who have been given the graphical treatment look really good.
No credits taken away :|
The grass in the stadiums definitely looks brighter which makes for a better gaming experience and now managers and substitutes stand on the boundary of the field. Classic Kits are also unlockable for some teams.
The gameplay now looks stunning. And as I had read somewhere correctly, EA is like the MCity of gaming. Cash rich, they can afford to go around the world and record authentic chants and create the atmosphere of the stadiums.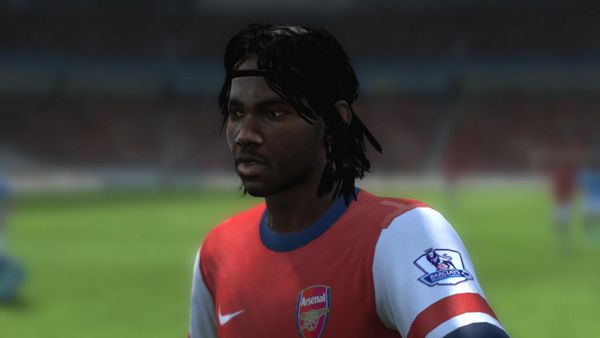 Attacking intelligence and First Touch Control
The attack is def smoother now with players trying to stay onside . Long Passes now need more skill and you no longer have to go tiki taka in tougher levels to score.
Plus, last season horrendous defensive lapse has been looked into.
This makes for a balance which was lost last year. The sweet spot in the difficulty has been reached. Last season, a particular level jump (I wont mention WHICH level, I dont want to look like a noob :| ) was pretty hard. Touche.
The one touch system also brings much more realism into the game. The longer you play the game, the more you understand it and you can actually use it as an advantage. It was correctly stated by one EA spokesperson (for the lack of my knowledge) that it is the "predictably of unpredictability.
Minor

Playstation and XBox users get Move and Kinect compatibility. (PC users are Losers. :D *grabs popcorn*)
There are games based on real world form and we also get Training Skills.
Training Skills I must say, has been explicitly copied from PES. But then again, it is an amazing addition and I am in love with it.
Career Mode.

Everyone knows about the new counter offers, loan and retire options I guess. So I'll write about things I encountered. Mainly 2 areas:
1. Players ages.


2. Koi bhi goal maardeta hain -_- One of my seasons had Downing as top scorer. =________=


One good thing is that the rate of transfers is less. I was shocked by last seasons transfer rate. Thank god it has been looked into this season. _/\_
But, there still lies the probem of the value of a player. Out of the blue, Messi, Ronaldo, Rooney, ANY PLAYER can hand in a transfer request. In my case, I saw Vidic leave my club because he couldnt adapt to this 'new' club -__-



This section is only for those stupid people who actually BUY games ( me :-| )
Coming for Rs. 2999 is it actually worth buying if you already have Ffa 12?
Even though I have F13, I would recommend actually buying PES 13 IF you have F12. F13 actually loses out because of the graphics.
PULL UP YOUR SOCKS EA!
But, if you were one of the few who didnt have 12, dont hesitate, 13 is the best game out there. Not too many upgrades over F12, but still the best.





PS - The best thing about Fifa 13 are the SONGS.
BRILLIANT choice of songs by EA. (There are approximately 50 of them.)
Glitches
There still are rare cases of players flying away after hitting each other.

Team mated get tangled off the ball frequently.

Players lack Loyalty.

Plus, the age glitch metioned earlier.
There are rivalries. Then there is war.
Such is the battle between Fifa and a certain PES.
For years fifa has had the upper-hand, rather, strangle-hold over PES. But with the release of the latest editions of their respective brands
, it looks as if PES could soon steal the show if FIFA do not improve themselves
.